HIRING
Job Vacancy Announcement
Date Posted: June 17, 2019
Closing Date: July 08, 2019

Below is a temporary full-time job position at LE GRAND BLEU INC. Interested applicants who meet the Minimum Qualification. Requirements must submit their employment application at Le Grand Bleu Inc. office

located at 1F Canaan Sun Building at Pira Drive Puerto Rico Saipan
MP 96950 Office hours 10:00 am to 4:00pm
or email their employment application form to

legrandbleu2016@gmail.com

or call Juanita at 670-285-7788 or (670) 483-3966

no later than the closing date shown above.
website: https://makesuresaipan.com/・ JOB TITLE: SCUBA DIVE INSTRUCTOR (Self-Enrichment Education Teacher)


SOC 25-3021
・ No. of opening: One (1)
・ Location: PUERTO RICO SAIPAN CNMI MP 96950
・ Starting Salary: $11.70 per hour
・ Overtime: Regular hour x1.5
・ Pay Frequency: Bi-weekly
・ Payroll Deductions: Mandatory CNMI and Federal Taxes
・ Work hours: Monday to Friday: 7:00 am to 3:00 pm Saturdays OR     
   Sundays: 12pm to 5pm Flexible days & hours depending on dive
   schedule (40 hours per week)
・ Start Date: October 01, 2019
・ End Date: September 30, 2020
・ Tools: supplies and equipment to be provided by Employer at no
    charge to Employee
・ Three Fourths Guarantee:The Employer guarantees to offer work for
    hours equal to at least three fourths of the workdays in each 12- 
    week period of the total employment period.
・ Transportation from Point of Origin:Inbound transportation and
    subsistence costs from POI will be provided by Employer, if the
    Employee will complete 50 percent of the work contract. Outbound
    transportation and subsistence costs will be paid by the employer
    if the Employee completes the work period covered by the contract.
    See US Labor ETA
20CFR 655.423(j)(1)
・ Transportation within Saipan MP 96950, within the work area:
    The Employee will use the company car to and from dive sites, with
    no costs or charge to the Employee.
Job Description: SEE ETA 9142C
Minimum Qualification Requirements:
Two (2) Years Experience as Scuba Dive Instructor, Three (3) months training on First Aid and Open Water Diving, High School Graduate,
PADI Open Water Dive Certification, PADI First Response Certificate, valid CNMI driver's license to pick-up or drop-off guests to their hotels and dive sites. Can communicate clearly(speak, read and write) with Japanese tour and travel agencies or Japan tourists. Must be physically fit. Must be able to work on weekends, holidays and early mornings. Knowledgeable on reef and marine life. Can do cold calls to prospective students or clients. Must be able to work on all weather conditions, exposed under the sun and rain. Can speak read and write in English. Can add, multiply, subtract and divide.
CW-1 Application for Temporary Employment Certification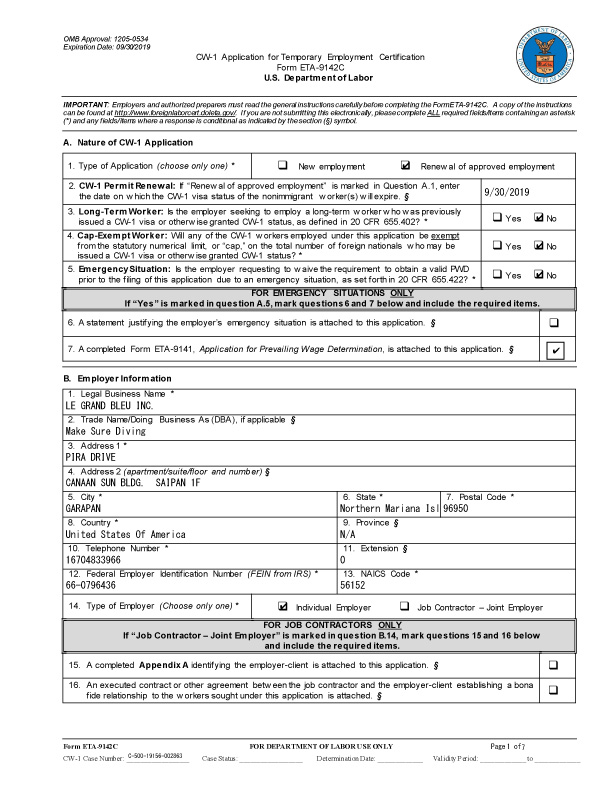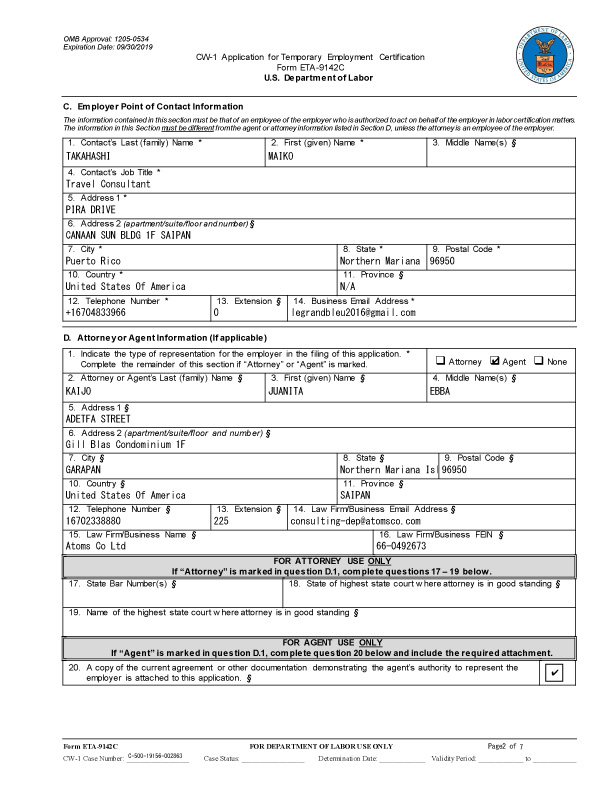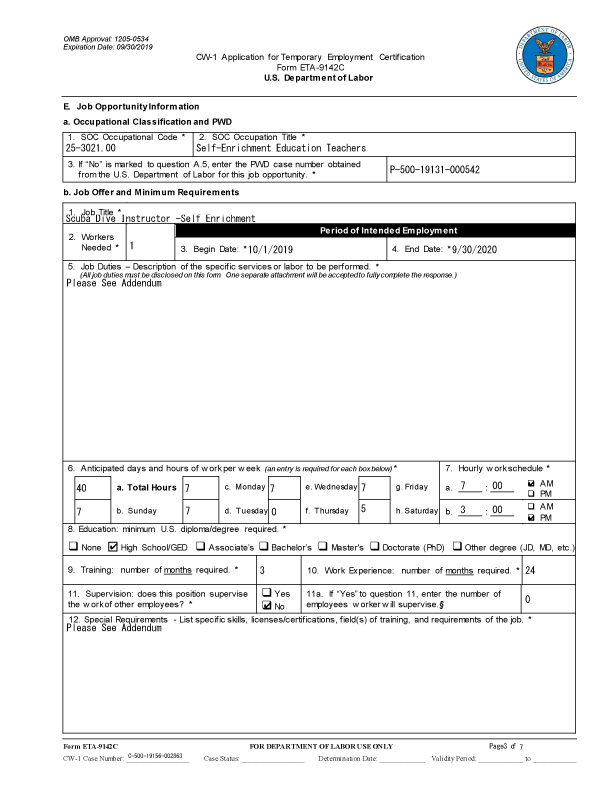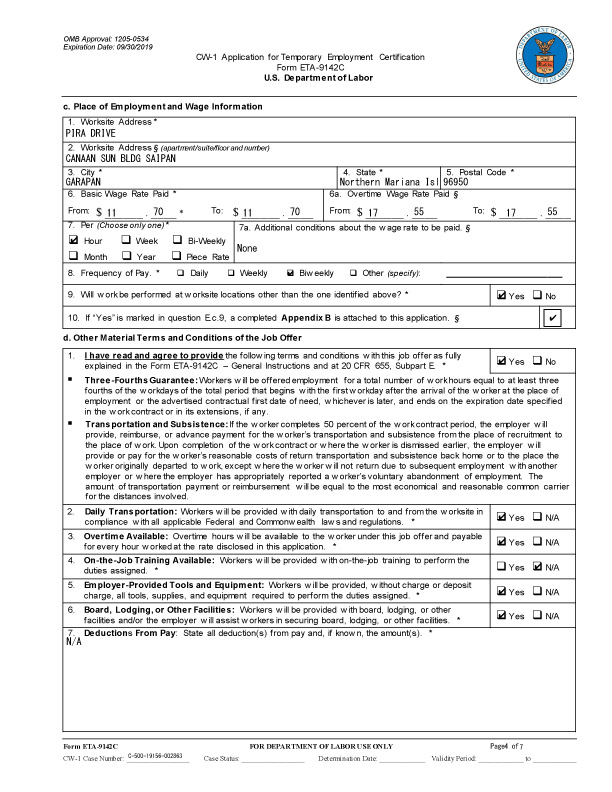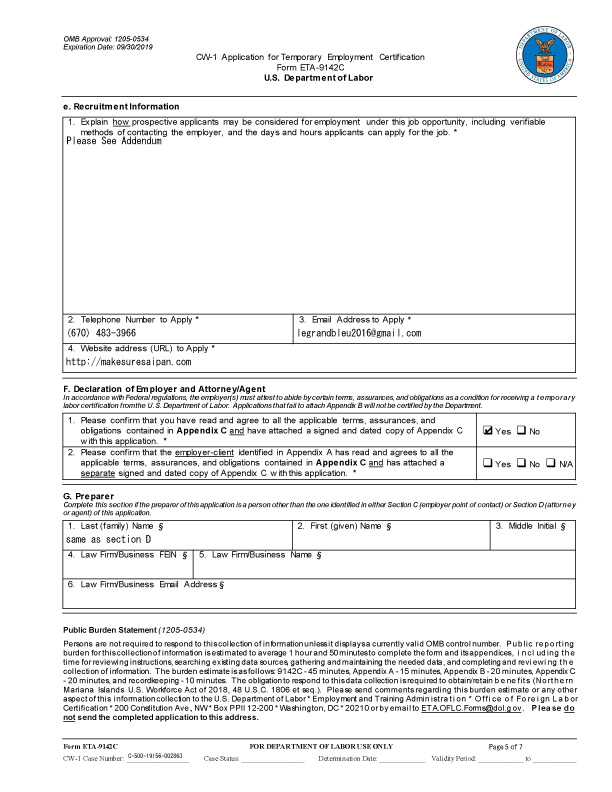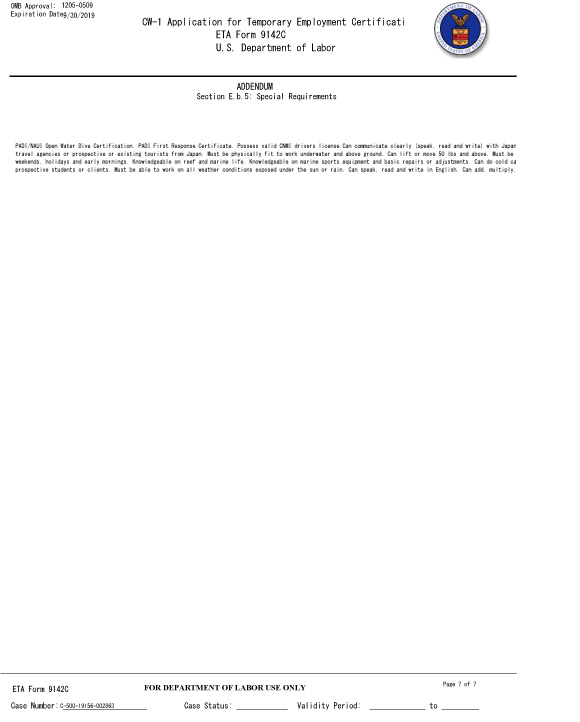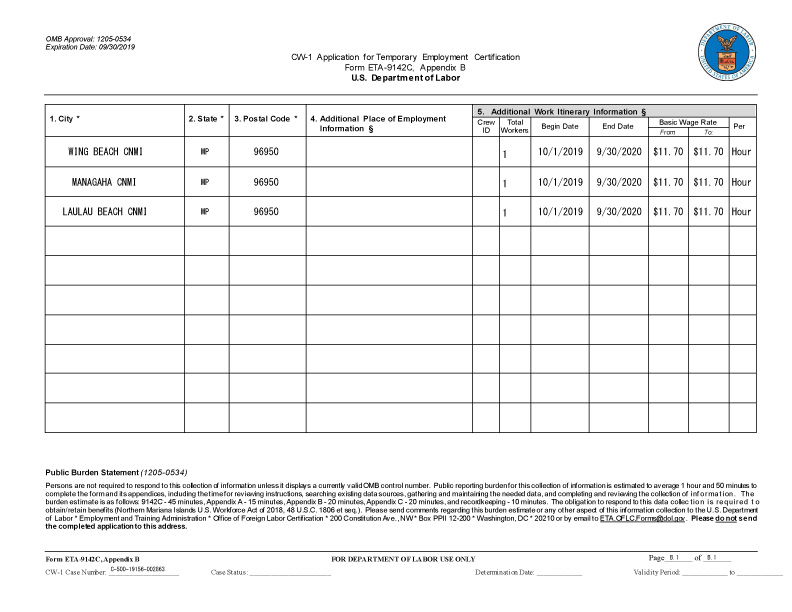 About us
Company Name
LE GRAND BLEU .INC
Shop Name
MAKESURE DIVING SAIPAN
address( Post office box)
PMB 413 PPP BOX 10000 SAIPAN MP 96950-8900
MAIL
legrandbleu2016@gmail.com
Phone Number
670-285-7788/670-233-8880